i do not know wat's the meaning of Cam Whore actually, saw eRiCCa always use it, so i juz follow ... hope it's not a bad thing ...
i feel helpless with my hair sometimes ... my hair is not long, and it's not short ... tat's TROUBLESOME !!! and now after i permed my hair, got to really spend some time on it every morning ... used to wake up on 6.45am last time, now got to wake up 30mins earlier ... it's hard to style it sometimes ... the quantity of hair gel & mousse have to be a lot, and still they doesnt guarantee the result after styling is wat u want ... so, my solution for bad styled hair is, tieing them up ...

hmm, i am kinda satisfied with my hair today, is kinda good i think ... i like it

the BEST since i've permed it ...
i know i still look like an aunty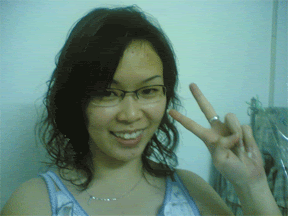 i'm very bad in posing ... eRiCCa, pls teach me !!!
paiseh
i'm wearing pyjamas actually